Therapy Dogs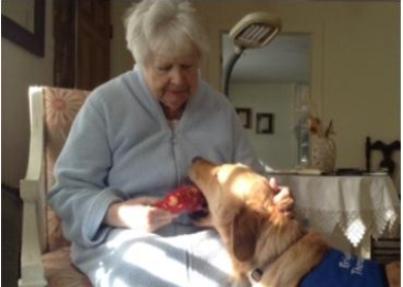 Many Golden Retrievers make wonderful Therapy Dogs. Dogs that do therapy visits must have excellent temperament. They should be calm, relaxed, confident, outgoing, friendly, patient, gentle, and enjoy physical contact with all types of people. They should be tolerant of other dogs and completely non-aggressive.
In addition, therapy dogs should be well trained, obedient, and have good manners. They should work nicely on leash with their handler in new surroundings and remain under good control despite distractions. Dogs should be healthy, current on vaccinations, clean and well groomed, free of parasites, and have short/smooth nails.
Dog owners and their therapy dogs make a commitment to do regular volunteer visits at a designated nursing home, assisted living or special needs facility, senior daycare center, rehab center, or hospital. Some therapy dogs participate in reading with children programs at libraries and schools.
The specific requirements for certification vary by therapy dog organization but generally include successfully completing a basic obedience dog training course and passing the AKC Canine Good Citizen test, taken when the dog is at least one year old. Some organizations have additional requirements and their own tests for certification. Most organizations also provide insurance to cover visits.
Yankee Activities
Yankee hosts occasional free educational programs on topics related to therapy dogs.
Many Yankee members have certified therapy dogs and regularly visit nursing homes, assisted living centers, and other facilities with their Goldens. One member's Golden has worked at a facility for physically and mentally challenged adults ever since he was a pup, visiting once every other week to do an interactive program using his obedience training.
Yankee member Nancy Bishop is active with the Companion Animal Program on Cape Cod, and she's available for interested Yankee members who would like to contact her about therapy dog work.
Yankee member Joel Wolff is the president of the Pets and People Foundation, a therapy dog group covering eastern Massachusetts. Members in the area who are interested in doing therapy work can email him at President@petsandpeoplefoundation.org.
Resources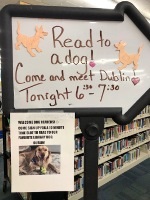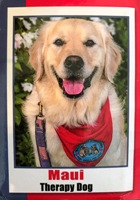 Many thanks to the Yankee members who contributed to this page: Joyce Hamlyn, Deb Houston, Karen Scotti, & the members of the YGRC Board of Directors.